Booking a Workshop
Choose a Workshop
From the list below, please select a biology, chemistry or physics workshop on your desired date and select the specific topic when filling out the booking form. Your request will then be processed by us and you will soon receive a confirmation email. If for any reason we can no longer offer that date, we will be in touch as soon as possible. For descriptions of the content covered in each of our workshops, please visit the biology, chemistry and physics summary pages.
Please note:
The workshops are designed to last

1.5 hours

. In some cases we advertise a longer block of time, this is so you can choose at what time the 1.5-hour workshop will start. In these cases, please state your desired start time using the booking form. (The latest finish time is the end time shown in the block of time advertised.)

We have capacity for up to 30 students to take part in a practical workshop.

If you would like to request any modifications to the workshop, e.g. duration other than 1.5 hours, please add a comment in the comments section of the booking form.

Bookings will close 1 week before the workshop start date.

Please arrive at the Coach Park (OX14 1BQ) and head to Faringdon Lodge Reception
Your group is welcome to eat packed lunches outside the lab or on the grass before or after your workshop, please just let us know in advance.

If you have any questions that can't be noted via the booking form, please do

contact us

.

Our most recently reviewed Risk Assessment for visitors and workshops can be downloaded for your own records here: ASP Visitors and Workshops RA 22-23
Transport
If you do not require transport to attend our workshops then you are guaranteed a workshop place, providing there is one available on your chosen day.
We endeavour to provide transport to our workshops for schools who are unable to fund their own form of transport.
However, it is important to note that:
We are only able to fund a maximum of four coaches per term. These will be allocated fairly across schools who cannot fund their own transport.
We can offer school minibuses, but cannot guarantee driver availability until one week prior to the event. Please be aware of this when requesting transport and be prepared to have to reschedule or cancel the session at short notice. We apologise for this, but it is outside our control.
Minibuses have a maximum capacity of 16 passengers. Consequently, the maximum number of people, including teachers and support staff, that we can transport is 32 people (two minibuses). If you require more spaces then please let us know in the Comments Section of the Booking Form and we will see if there are any coach spaces available.
If you have requested transport then we will be in touch with further details once you have submitted your booking request.
Thank you!
Please note that Chemistry workshops are now available to book for this term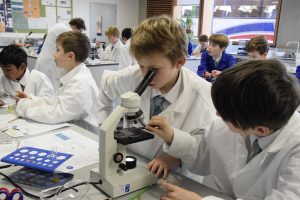 Date and Time
Workshop
Monday 2 Oct. 23
11:15 am - 12:30 pm
School Places Available: 1
Chemistry Workshop
Tuesday 3 Oct. 23
1:00 pm - 2:30 pm
School Places Available: 0
Biology Workshop
Wednesday 4 Oct. 23
9:30 am - 11:00 am
School Places Available: 1
Physics Workshop
Thursday 5 Oct. 23
9:30 am - 11:00 am
School Places Available: 0
Physics Workshop
Tuesday 10 Oct. 23
1:00 pm - 2:30 pm
School Places Available: 1
Biology Workshop
Wednesday 11 Oct. 23
9:30 am - 11:00 am
School Places Available: 0
Physics Workshop
Friday 13 Oct. 23
10:15 am - 11:30 am
School Places Available: 0
Chemistry Workshop
Wednesday 18 Oct. 23
9:30 am - 11:00 am
School Places Available: 0
Physics Workshop
Thursday 19 Oct. 23
9:30 am - 11:00 am
School Places Available: 0
Physics Workshop
Monday 30 Oct. 23
11:15 am - 12:30 pm
School Places Available: 1
Chemistry Workshop
Tuesday 31 Oct. 23
1:00 pm - 2:30 pm
School Places Available: 0
Biology Workshop
Wednesday 1 Nov. 23
9:30 am - 11:00 am
School Places Available: 0
Physics Workshop
Tuesday 7 Nov. 23
1:00 pm - 2:30 pm
School Places Available: 0
Biology Workshop
Wednesday 8 Nov. 23
9:30 am - 11:00 am
School Places Available: 0
Physics Workshop
Thursday 9 Nov. 23
9:30 am - 11:00 am
School Places Available: 1
Physics Workshop
Friday 10 Nov. 23
10:15 am - 11:30 am
School Places Available: 1
Chemistry Workshop
Monday 13 Nov. 23
11:15 am - 12:30 pm
School Places Available: 1
Chemistry Workshop
Tuesday 14 Nov. 23
1:00 pm - 2:30 pm
School Places Available: 1
Biology Workshop
Wednesday 15 Nov. 23
9:30 am - 11:00 am
School Places Available: 0
Physics Workshop
Tuesday 21 Nov. 23
1:00 pm - 2:30 pm
School Places Available: 1
Biology Workshop
Wednesday 22 Nov. 23
9:30 am - 11:00 am
School Places Available: 0
Physics Workshop
Thursday 23 Nov. 23
9:30 am - 11:00 am
School Places Available: 1
Physics Workshop
Friday 24 Nov. 23
10:15 am - 11:30 am
School Places Available: 1
Chemistry Workshop
Monday 27 Nov. 23
11:15 am - 12:30 pm
School Places Available: 1
Chemistry Workshop
Tuesday 28 Nov. 23
1:00 pm - 2:30 pm
School Places Available: 1
Biology Workshop
Wednesday 29 Nov. 23
9:30 am - 11:00 am
School Places Available: 1
Physics Workshop
Tuesday 5 Dec. 23
1:00 pm - 2:30 pm
School Places Available: 0
Biology Workshop
Wednesday 6 Dec. 23
9:30 am - 11:00 am
School Places Available: 0
Physics Workshop
Thursday 7 Dec. 23
9:30 am - 11:00 am
School Places Available: 0
Physics Workshop
Friday 8 Dec. 23
10:15 am - 11:30 am
School Places Available: 1
Chemistry Workshop
Monday 11 Dec. 23
11:15 am - 12:30 pm
School Places Available: 1
Chemistry Workshop
Tuesday 12 Dec. 23
1:00 pm - 2:30 pm
School Places Available: 1
Biology Workshop
Wednesday 13 Dec. 23
9:30 am - 11:00 am
School Places Available: 0
Physics Workshop